"Taiki no Irie (Atmosphere / Sound)" is an experimental listening installation inspired from traditional Japanese tea ceremony. The work invites the audience to use all five senses to fully enjoy site-specific experience. Audience members encounter sound and scent, as well as the passage of time and the sensations of existence itself.
Since 2018, "Takai no Irie" has taken place at distinctive locations in Kanagawa and Tokyo.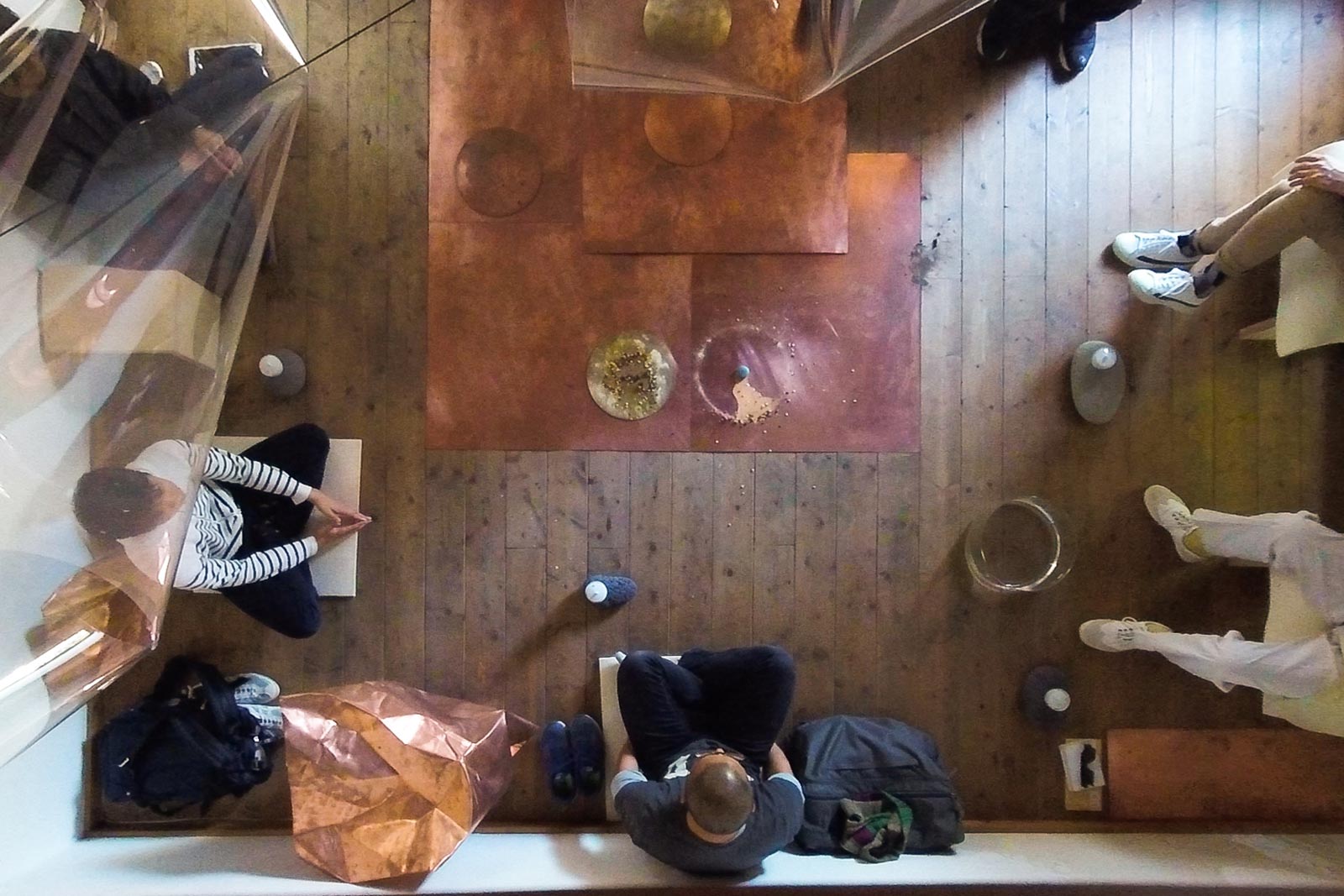 Everything was great. (delicate setups, appearance)… space, placement of objects, people (presence, movement), execution of events, environmental sound, and all those people who shared these experiences together… Everything was penetrating and began resonating… Above all, I thought that encountering the "phenomena" taking place and enjoying that process was by far the most important. There is no right or wrong in nature, and all you see is the transition of energy. You just simply feel that process without being interrupted by human values. Certainly enjoyed the resonance of differing senses of hearing, smell, and touch…
Splendid. Without realizing it, an hour has passed.
Felt like my pupils, ears, and nostrils were probed deeply with a fingertip. Indulged in memories, feeling nuts, bitter taste, vapor, light, stone, tremor of water, interchange of "in" and "out". Spent brilliant time with my hosts. Recalling each act made me feel happy and nostalgic. I tried to find the source of my feelings and remembered all my experiences searching for the world in my childhood.
All these incidental encounters were provoked by truly beautiful materials and gestures. It's hard to describe, but it was a precious moment which I brought home with me.
It is like an ancient play for a noble person and an intense experience in which I focused only on my senses and not my thoughts. It was so sensual, not only in the way I immersed myself in my own experience, but also in the visual images that unfolded in front of my eyes.
The last part where I came back to reality, was also very touching. I went to the dream world once, but the real world I came back to was also like a dream. It gave me an indescribably good feeling, like I was reacquainting myself with the real world.
Synichiro Hara
a member of Soco Chanel?
Felt an ambiguous border between ordinary and extraordinary, full of wonder. Hardly had a chance to concentrate on the act of listening like this before. I wonder why I felt so nostalgic and got a flashback of my childhood memories. I heard the word "sound" actually means "inlet(Irie)" as well. An ear as a "sound". So that's why "Taiki no Irie (atmosphere/sound).